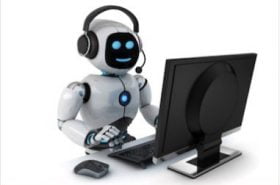 Mod de lucru
Modul de asigurare a mentenantei IT proactive
Monitorizare echipamente critice 24/24
Operatiuni in background fara intrerupere utilizator
Patch & updates management automat
Real time monitoring PC-uri si alertare
Toate aceste 4 puncte ne diferentiaza si asigura buna functionare a PC-urilor, a serverele si a echipamentelor IT din infrastructura. Fiecare client Openvision beneficiaza de mentenanta proactiva automata, ca parte integranta a serviciilor noastre.
---
1. Asiguram monitorizarea permanenta a tuturor echipamentelor critice in infrastructura clientului
In momentul unei alerte automate, se creaza un ticket iar technicianul alocat companiei dvs este anuntat pentru a face verificari. Toate tehnologiile sunt suportate:
SNMP: ready-to-use and custom options
WMI and Windows Performance Counters
SSH: for Linux/Unix and macOS systems
Traffic analysis using flow protocols or packet sniffing
HTTP requests
REST APIs returning XML or JSON
Ping, SQL, and many more

---
2. Mentenanta IT avansata fara intreruperea utilizatorului
Sistemul de mentenanta proactiva Openvision ofera tehnicienilor nostri posibilitatea intervenirii asupra statiilor de lucru fara a intrerupe utilizatorul din taskurile zilnice.
Service Manager
Task Manager and Program Manager
Uninstall applications
Run scripts
Install patches
Command Prompt access

---
3. Patch Management
Openvision pune la dispozitia clientului o platforma completa pentru automatizarea si gestionarea updateurilor. Se pot aplica patchuri pe device-uri individuale sau pe grupuri incluzand :
Run Windows Update: All / Critical / Important / Security.
Run Windows Update: Service Pack
Install Microsoft Office Updates
Install Driver Updates (Hardware)
Install Java updates
Install Adobe updates
Reboot If Needed
Third Party updates

---
4. Real Time Monitoring PC-uri si Alerte
Aceste informatii sunt obtinute de catre agentul software Openvision instalat pe device-urile client:
System resources
Logged in users
Network & IP Monitoring
SNMP Monitoring
Windows updates
SQL Server
Exchange
Active Directory
VMware
Hyper-V & SNMP enabled devices
---
5. Sistem complet de ticketing pentru urmarirea tuturor solicitarilor si a timpului de raspuns/rezolvare
Inregistreaza toate sesizarile trimise pe email/telefonic
Alerteaza automat in cazul depasirii unei perioade agreate si escaladeaza problema catre un nivel superior
Se obtin rapoarte automate lunare continand toate ticketele deschise de catre client.

---
6. Asset & inventory tracking
Sistemul Openvision permite obtinerea de informatii privind inventarul hardware si software in cateva secunde a tuturor device-urilor administrate
Hardware distribution
Software inventory
Operating System distribution
MS Office distribution
Antivirus type, update and license status
HDD Usage and alerting on upgrade required
Hardware (CPU, Memory) type, size and alert on upgrade required
Detailed Server and Workstation configuration and status